---
---
A Diffuser that Doubles as a Spectacular Home Decor Piece!


The Fireworks™️ Diffuser contains an intricate light pattern that resembles fireworks frozen in time - a truly unique work of art! A changing array of colors flash as LED lights shift through 7 mesmerizing patterns, providing hours of relaxation. Holds up to 1L of water that lasts 4-8 hours. A timer can be set to stop the device on a schedule. The device works with all essential oils - we recommend peppermint, especially during the holiday season!

Essential Oils and Aromatherapy Diffusers have a variety of benefits. The scents emanating from the device can help you sleep, elevate your mood, ease your breathing, eliminate pain, help with cognitive functions, ward off illnesses, and purify the air in your home! Our Fireworks™️ Diffuser is the perfect, natural relaxation tool that doubles as a wonderful home decor piece!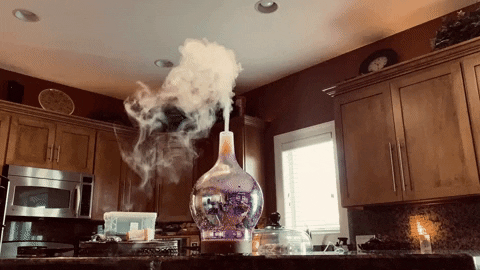 FEATURES:
3D Glass Cover: Comes with a stylish 3D glass cover which accentuates the light show contained within
6 COLOR MODES & AUTOMATIC TIMER: Illuminates 6 different colors that automatically rotate unless you set the mode on your favorite color. Choose from pink, yellow, dark blue, green, light blue, and white firework bursts of brightness
BENEFITS OF AROMATHERAPY: Helps with pain, sleep, stress, anxiety, and more. Popular aromas are: Lemongrass, Cinnamon, Citrus, Lavender, Tea Tree, Spearmint, Eucalyptus, & Peppermint Oil
SAFE & ALL-NATURAL: BPA Free with NO-heat and auto shut off timer for convenience. Simply add a few drops of essential oil to start diffusing your favorite fragrances!
ENHANCE & IMPROVE AROMATHERAPY: Relax and enjoy the various health benefits of aromatherapy. Reap the benefits of a luxurious spa, while in the comfort of your own home!
SPECIFICATIONS:
Material: ABS + glass + PP
Size: 25x15.5CM
PACKAGE INCLUDES:
1 x Fireworks™️ Diffuser
1 x Charging cable
1 x Manual
~ Our Customer Guarantee ~
We pride ourselves in providing the best consumer experience, from placing your order, to the item arriving at the your door. We are here to help you through each step of the process. We offer 30 day return policy. Please allow 2-3 weeks if you are choosing the free shipping option, if you are paying for express or premium shipping time, you will not have to worry about that. Certain countries can take up to 60 days max for shipping.
---